Columbia Home Megazine Nov-Dec 2003
Contemporary Living With Architectural Distinction
Article by Robin May, Columbia Home megazine

"......M. Saleh Uddin, may be a professor of environmental design, but he's one educator that isn't afraid to make practical applications with his research. One look at his home and it is clear that Saleh's work has resulted in one of Columbia's most unique creations...."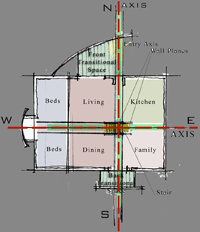 Schematic diagram illustrating primary axes and transitional spaces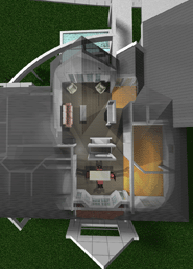 (This 4100 sq. ft. walkout ranch house is arranged primarily against two axes that cross each other perpendicularly. These two axes function both as visual axes as well as circulation spines. The north-south axis connects the front entry with the back deck along the living and dining spaces. The cross axis running east-west connects the kitchen space with private bed room zones. While these two axes hold primary circulation paths, the intersecting point holds the vertical circulation in the form of a staircase connecting two levels of the house. This staircase is sandwiched between two vertical planar walls which becomes the conceptual center of the house. These two walls also visually connect the living space with the dining space through large openings. Fireplace, the most important social element is also strategically placed against one of these walls facing the formal living.)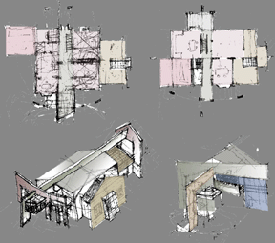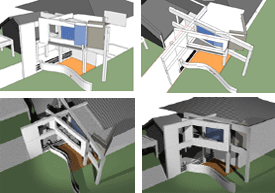 Early design sketches and computer study models.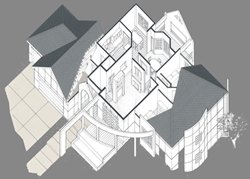 ....... Architectural design is always an important part of building a home. But for Saleh, architectural design was at the heart of the complete home-building process. The results are a fascinating combination of angles, lines and curves that create an environment Saleh's family calls home.

Saleh, his wife Mahmuda Saleh, a bio-chemist and their two children Shehreen and Zaheen moved to Columbia three years ago when Saleh accepted an offer to join the University of Missouri faculty. The family looked at several houses, were unimpressed by what they found and decided to build. Then came the challenge of finding an available lot that would be suitable to the type of home they envisioned.
Once they secured the lot in southwest Columbia, Saleh struggled to create a home that was true to his creative impulses without creating a home that he could never market if he chose to sell.
"This is a compromise between what I would like to have as unique architecture and what can be appreciated by general people," Saleh says. "This is something in between."

Acting as the general contractor on the 4,000-plus-square-foot project, Saleh began building in July of 2002. It took eight months to build the home; it had taken Saleh seven months to design it.
"First of all, I wanted something functional, aesthetically unique, but also keeping the main shell of traditional American houses," he says.
A Bangladesh native, Saleh came to the U.S. 18 years ago to get his master's degree in architecture from Kent State. Later he received his Ph.D. in architecture and computer application from University of Sheffield in England. He is now the coordinator of MU's graduate program in design with digital media and used his expertise to create digital sketches, blueprints and construction photos. Saleh's goal was to create a feel of suspension that begins on the front porch, moves throughout the whole house and onto the back deck.

"I tried to create layers that don't block the view of other parts of the house, but accent it," Saleh says.
Saleh treated both the front porch and the back deck as "transitional environments." Using suspended beams with corresponding angles along with the fountain and pool, the porch serves as space to move guests from the outside to the inside of the home. The back deck, he says, "feels like you have a big window to look out."

Metal horizontal rails, natural light and columns were used throughout the home to "be able to see different space through different layers."
The home's interior helps achieve the quality of space that Saleh was looking for. With white carpet and walls, black and simple color splashes provide subtle contrasts that demand attention. Saleh's original oil paintings accent several rooms of the home.
The ranch-style home is complete with five bedrooms, three bathrooms and a movie room, complete with black leather recliners and contrasting crimson-colored carpet.
"You have to experience the home," Saleh says. "Everybody that comes into it enjoys it." ....... Robin May, Columbia Home megazine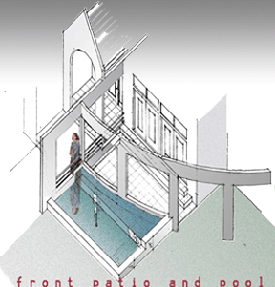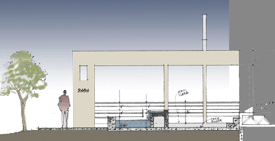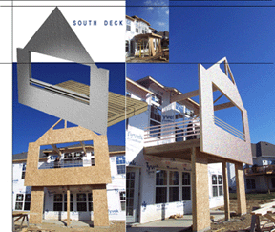 ---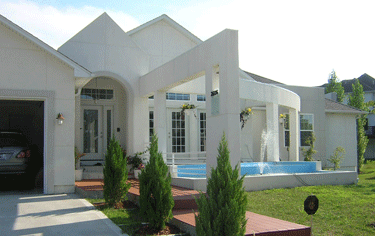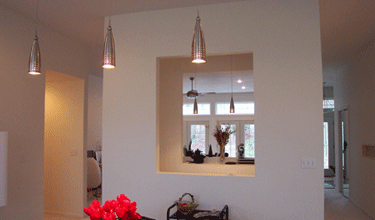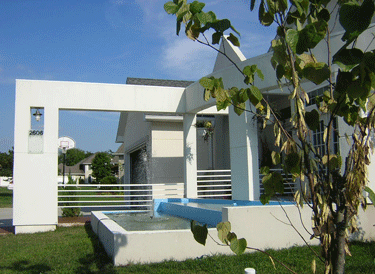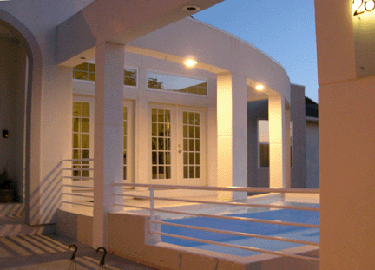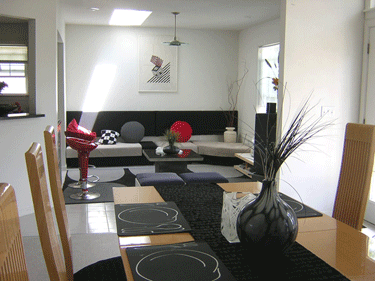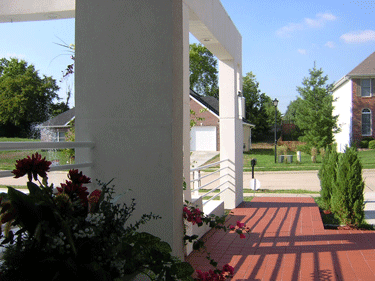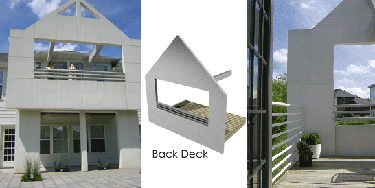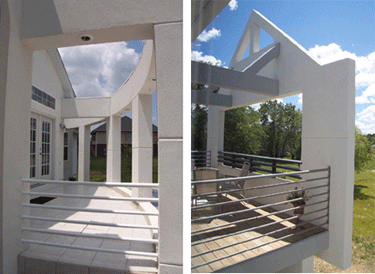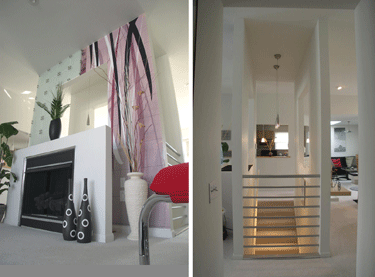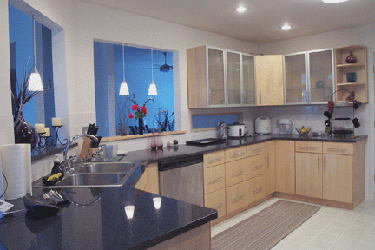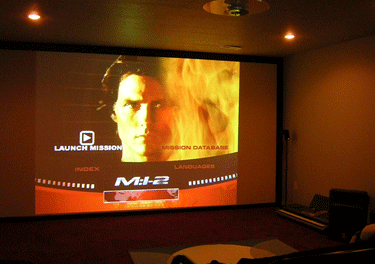 ---